Regular price
Sale price
$36.00 USD
Unit price
per
Sale
Sold out
The Leader Lite is a powerhouse wearable lead that allows you to walk one dog or multiple dogs (when clipped into the Lead-All leash system) with hand-held control or hands-free convenience. We are a body-positive company that offers free custom adjustments as needed, just add your measurements to the check out notes. Made in Canada with high-quality nylon.
In stock
Share
View full details
Product Video Coming Soon...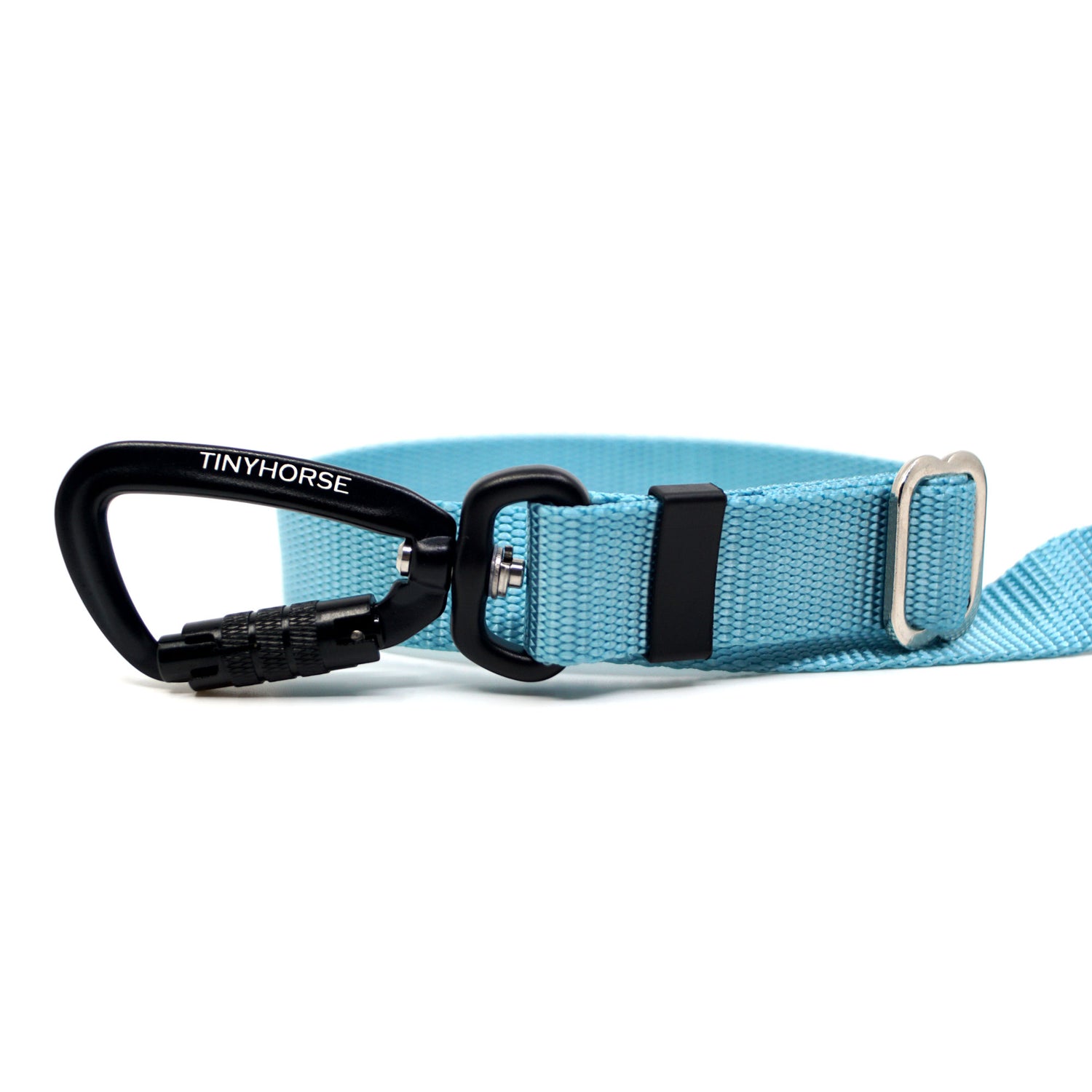 Lite Series
Products in our Lite Series are made from high-quality nylon webbing, a classic leash material favoured for its lightness and affordability.
Product Specifications
Origin

🇨🇦 This product is made ethically in Ontario, Canada with global materials.
Material

Nylon webbing - we use a thick, high-quality webbing
Length

OVERALL = 61.25 in -> 93.25 in / 155.5 cm -> 237.5 cm, WAIST = 31.75 in -> 47.25 in / 81 cm -> 120 cm (leash attachment from hip to dog or connecting ring is 29.25 in -> 46.25 in / 74.5 cm -> 117.5 cm), CHEST = 49 in -> 81.25 in / 124.5 cm -> 206.5 cm (leash attachment hanging from chest is 12.25 in / 31 cm) **** PLEASE NOTE: We are a body-positive company and offer free custom adjustments to the waist strap — just add your measurements to the notes at checkout (a follow up email to ensure the note came through does hurt!).
Strength

A product's weakest point is the clip, so we base strength on clip break load. This product has a nickle-plated steel alloy clip with a break load estimated at 434 lbs /197 kg
Safety

Just because you can be hands free doesn't mean you always need to be or should be.

Please do not use the hands-free function of this product when you are uncertain of your ability to manage the force of the dogs attached or on treacherous surfaces such as ice or gravel.

Always be aware of your surroundings and use handles when approaching triggers that may increase your dog's force.

Regularly change the "lead point" on your body to avoid chronic pain. By switching up how you're managing dogs (around the waist, across your chest or by hand) you let your body heal from tension.

While we've made the safest choices possible for this product, animals are unpredictable by nature. Furthermore, choices made in regards to how animals are handled, the terrain in which you walk dogs and how the quality of the gear is maintained in the long term is not within TinyHorse's control. By purchasing this product, the customer hereby releases TinyHorse from any liability or responsibility that may occur, either indirectly or directly from the use of this product.

Please email us immediately at hello@tinyhorse.ca if you experience a safety incident as a direct result of this product.
Care

Cleaning

🤚 Hand wash: soak lead in warm soapy water for 30 mins, rinse leashes thoroughly. Repeat for deeper cleaning. Hang to dry.

🧺 Machine wash: Put lead in a laundry bag, wash on gentle with cold water, hang to dry.

🧼 We recommend using mild detergents as heavy duty detergents have shown to effect the finish on some products. If you are unsure of the intensity of your detergent and want to extend the finish, soak clips in hot water only.

🌊 Rinse products after exposure to salt water.

Maintenance

🛠️ Ensure that you regularly soak the entire product. It's important to clear debris from the mechanics of clips for long-term use. Apply high-quality oil to swivel to extend the life of your lead - like a tire tread, this mechanism eventually wears away and the leash will need to be replaced. NEVER apply oil to trigger chamber as this may lead to unwanted unclippings. Regularly check the swivel and opening/closing mechanism of clips.

🦷 Never leave your gear unattended with dogs known to chew.

🔥 If a tear occurs in the fabric, use a lighter to cauterize the material from unravelling. Do this outside as fumes from melting nylon can be harmful. Replace the lead if you feel uncertain about its usability.

🚗 Do your best to protect gear from exposure to extreme conditions, especially those created during vehicle storage (such as direct light through windows or freezing temperatures).
Warranty

TinyHorse uses the best materials and construction methods possible. Stitching and hardware are under warranty for one year. Damage to the product's material inflicted through use is not included in the warranty. For more information please see our policy page.
More featuring this design
These products share a design but are made of different materials.
Regular price

Sale price

$61.00 USD

Unit price

per

Regular price

Sale price

$38.00 USD

Unit price

per
More in this Series
These products share the same material but range in design.
Regular price

From $16.00 USD

Regular price

$17.00 USD

Sale price

From $16.00 USD

Unit price

per

Regular price

From $20.00 USD

Regular price

$0.00 USD

Sale price

From $20.00 USD

Unit price

per